Getting Married in 2020 / 2021 ?
News from Tipperary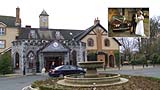 Maria & Gareth
The Abbey Court Hotel, Nenagh, Co. Tipperary, caters for any wedding reception or civil ceremony from 50 - 300 guests
The award-winning team at this Tipperary wedding venue combined with a magical rose garden within the hotel's garden courtyard, and the exquisite Baronial ballroom, a beautiful bridal suite and an abundance of spectacular setting such as the Hotel's grand stairway, to help Maria & Gareth create beautiful memories to have forever.
The Abbey Court Hotel, located in Nenagh, Co. Tipperary, provided ideal video and photography locations in its extensive landscaped grounds for a wonderful video and photo shoot.
Other Wedding Video Stories from Co. Tipperary
"A good marriage is like a casserole, only those responsible for it really know what goes in it"
Anonymous
"Love is a game that two can play and both win"
Eva Gabor