Getting Married in 2021 / 2022 ?
Wedding DVD News from Dromoland Castle, Co. Clare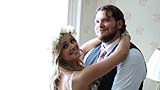 For many centuries, Dromoland Castle has played host to formal alliances of noblemen and ladies, with beautifully landscaped gardens, winding staircases and sumptuous guest rooms creating a truly spectacular first impression and the ideal backdrop against which to set the most memorable Clare wedding of Katherine & Mike.
One of the most sought-after 5-star wedding venues Ireland has to offer, The Castle's Wine Cellar sports a selection of over 600 vintages from around the World, including many fine vintage and non-vintage bottles of champagne.
Other Wedding Video Stories from Dromoland Castle, Dromoland, Co. Clare
"To fall in love is awfully simple, but to fall out of love is simply awful"
Anonymous