Getting Married in 2023 / 2024 ?
Wedding DVD News from Lyrath Estate, Co. Kilkenny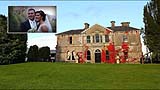 Lyrath Estate Hotel provided Rose & Seamus with the ultimate Kilkenny wedding venue; an amazing picturesque setting coupled with the expertise and professionalism of the management team and staff.
Lyrath's 17th-century house has been immaculately and lovingly restored and combined with the new additions, creates a perfect marriage between a bygone era and the present day.
Other Wedding Video Stories from Lyrath Estate, Kilkenny, Co. Kilkenny