Getting Married in 2020 / 2021 ?
News from Cork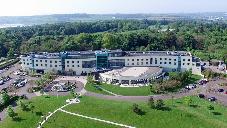 Magnificent Image of Fota Island Resort Cork
This image was captured at the wedding of Elizabeth and Ben on Friday May the 13th at The Five Star Fota Island Resort Hotel in Cobh Co. Cork.
The happy couple had their wedding ceremony at Glounthaune Church which was 10 min from the wedding venue and situated on a hill.
They had their wedding photos at Fota House and then back to Fota Island Resort to party and dance the night away.
Other Wedding Video Stories from Co. Cork
"A kiss is a rosy dot over the 'I' of loving"
Cerano de Bergerac